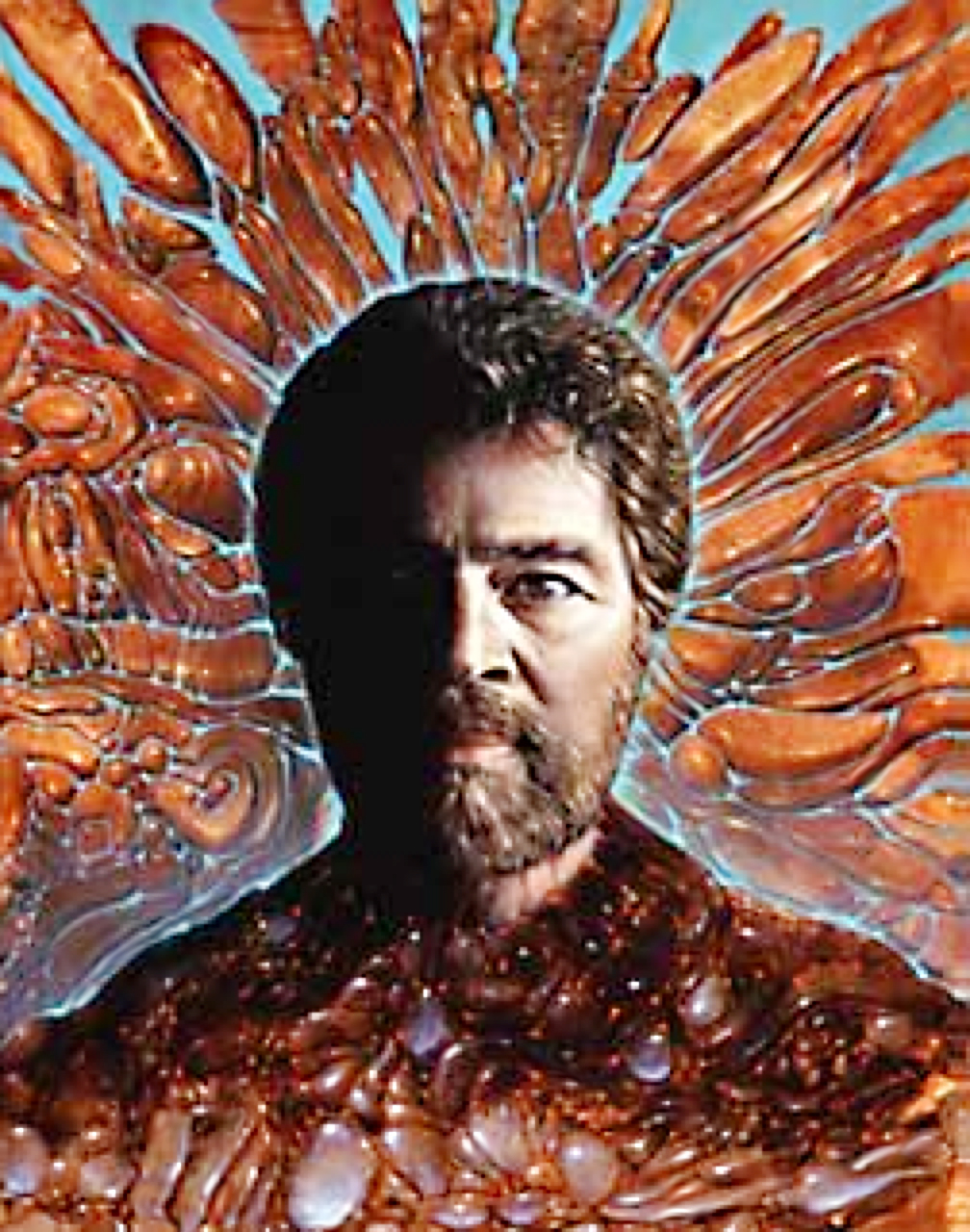 Self Portrait    *  Robert Venosa
"In having the blessing of The Urantia Book enter my world back in 1968, I was transported into a realm of transcendent consciousness that elevated every concept I held about the universal mysteries and my own reasons for existence.

Upon reading the book, I was soon to be shaken to my core and awakened to my higher self through visitations that can only be described as celestial and/or angelic, which directed me to pick up the paintbrush and begin to channel and manifest the forms and colors that would provide glimpses of other-worldly architecture and celestial beings.

That was forty years ago, and I am still deeply inspired to continue the elusive pursuit of giving shape to the formless and definition to the indescribable.  Along the way, The Urantia Book and its high-velocity intelligence, wisdom, and spirit-enhancement, has been a source of unending inspiration for my art, my life, and my ultimate goal of passing through infinity and basking in the light and presence of our Divine Source and Center."
—Robert Venosa
Robert Venosa graduated into the transition from material life to the next stage of ascendant creature existence on Wednesday, August 10, 2011;  he left the mortal coil from his home in Boulder, Colorado.  Bob was one of the early artist adapters of the The Urantia Papers, and promptly set about turning his vision into startling images of celestial beings that glow with the "glistening luminosity" of the spiritual world.
I consider myself most fortunate to have encountered his work in 1974 at the first International Urantia Conference I attended, but it was several years later before we finally met, both of us having relocated to Boulder in the late seventies.
Although he left the planet a splendid and inspiring body of work, he will be missed by so many;  but now his talent and vision will soon be shared on a higher and more profound level of universe reality.  Vaya con Dios, my brother.
"Eye has not seen nor ear heard, neither has it entered into the mind of mortal man, the things which the Universal Father has prepared for those who survive the life in the flesh on the worlds of time and space."
—The Urantia Papers