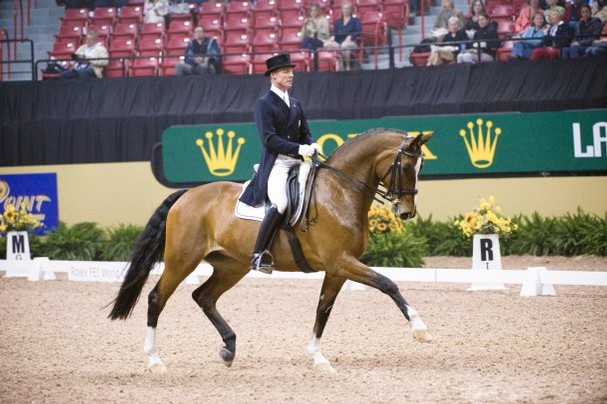 Rafalga, the royal Romney family's entry into the Olympics dressage competition
Fresh from his disastrous debut on the world stage where he managed to insult his English hosts by dissing their preparation for the Olympics, preening prick and presidential wannabe Willard Mitt Romney slipped out of the country for what he hopes are greener pastures in Israel. (The NY Times, in their coverage today of the Friday's nights opening ceremonies, referred to Romney as England's  "Public Enemy Number One.")
But Willard didn't limit himself to insulting the British. As Raven from Democratic Underground noted:
Perhaps the most troubling thing I heard last night was the way he dissed his wife. He was actually chuckling when he essentially said: "well, this is Ann's horse and I don't care enough to be interested in how it does." Now, we all know that, politically, he wants to distance himself from this horse, but it's a little too late for that. He could have said " I am very excited about Ann's horse, this is her passion and she is a very accomplished horsewoman. This horse has made a huge difference in Ann's health and I am very grateful for that." Opportunity missed. I'm guessing that his advisors told him to blow Ann and her Olympic horse off, and he did.
The horse, of course, is Rafalga, a half million dollar mare whose name in some strange language must mean "tax deduction" since the Romney listed him as a  $77,731 business expense on their 2010 federal tax return.  Rafalga earns his keep as a competitor  in the One Percenters' world  of dressage, and will be entered in a musical version of dressage called kur :
Another popular form of dressage competition which is included in most shows is the musical kur (free style) ride, composed of one, two or more horses performing to music. Many have expressed the opinion that in the kur rides, the sport of dressage comes closest to the art of ballet.
The dressage's kur has an interesting history going back to the ancient Greeks, which is freighted with foreboding for the Romney's dream of occupying the White House. Recall last April what Mitt and Ann Romney told Diane Sawyer during their first national interview.  Mitt said that the Obamas better  "Start packing."  Ann added: "I believe it's… Mitt's time… It's our turn now."
Methinks that the Romneys' sense of entitlement won't fare any better than did that of the citizens of Sybaris, who likewise invested a lot a time and expense in teaching their horses how to dance, and which led directly to their doom. Guy Murchie in his excellent book The Music of the Spheres explains how.
So plush and decadent did the Sybarites eventually become that it claimed their patricians "never walked" but, even to go two houses down the street "took a chariot…"

Outdoor processions were more imposing still. The dashing Sybarite Army "five thousand strong and recruited of young men from the best families often rode through the city wearing saffron robes over their breastplates. Their proudest stunt was the coordinated prancing of the magnificent matched horses which had been painstakingly trained to dance to the music of flutes, an accomplishment so marvelous , so unsurpassed that no one saw any flaw in its perfection. No one, except Pathagoras, who held sway over his humble, barefoot devotees upon a beautiful cape near the city of Croton.

Pyythagoras' observation might never have become known to the world but for the fact that when Croton at last grew big enough to rival Sybaris towards the end of the sixth century, serious differences arose between them, culminating in war in 511 B.C. Aristotle described the principal engagement of this strife as a charge by the entire Sybarite calvary upon the smaller Crotonite army. Few of the Sybarites seemed to doubt that they would overwhelm the enemies in the first rush, but the Crotonites were better prepared than they knew. For Crotonite scouts on Pythagoras' advice, had learned the music of the Sybarite calary band. Furthermore, Milon the Crotonite general, already a legendary hero for having been six times the champion wrestler in the Olympic games and six times the Pythian ones, was dressed in a lion skin and brandished a great club like Hercules. He inspired supreme confidence in his troops and well-distributed musicians who calmly awaited the advancing enemy. And just before the clash, Milon gave a sign to his flutists who piped up such a tune that all the Sybarite horses started dancing and prancing, permitting the Crotonite spearmen to close in with deadly effect. Within a few minutes the whole Sybarite army was in flight, fiercly pursued by the Crotonites, who swarmed over the bridges into the city and flooded and destroyed it– so completely that it soon vanished and was forgotten, forgotten so thouroughly that, in fact, modern archeologists, who well know its general location, have scarcely yet found a trace of it. —Music of the Spheres. (pps. 364-365)
Personally, I can't wait to begin forgetting about the Romneys.