For the man who has everything (except the presidency) , this handy device takes less energy than an Etch-a-Sketch to alter reality
The fallout from Mitt Romney's lies about President Obama shipping U.S. jobs to China continued yesterday as General Motors spokesman Greg Martin told The Detroit Free Press:
"We've clearly entered some parallel universe during these last few days. No amount of campaign politics at its cynical worst will diminish our record of creating jobs in the U.S. and repatriating profits back to this country."
Huffpo describes  it thus:
Mitt Romney's round of highly dubious television and radio ads suggesting that Chrysler and GM are shipping American jobs to China has managed to offend both car companies….

The day before, meanwhile, Chrysler Group LLC CEO Sergio Marchionne penned a letter to the Detroit News insisting that there was no validity to the idea that the company was shipping Jeep production overseas. Instead, he noted, the company was looking to open new factories in China to meet increasing demand there.
Used to be that when a political campaign got caught with its pants down, it would mumble an apology or at least have the good sense to STFU.  Not this generation of Rethugs. Instead, they double down, drop their undies and moon  the world.:
The Romney campaign has showed no willingness to back off the suggestion that American Jeep workers may end up losing their jobs. In fact, the campaign has released a radio ad in Ohio to complement the one it has on television there that repeats the insinuation.
Which of course is entirely consistent with their adoption of the Big Lie strategy that Goebbels found so effective. What really makes it work though is constant repetition, made possible by Citizens United and the unlimited amounts money provided by plutocrat billionaires like the Koch Brothers and Sheldon Adelson who think so much of themselves that they're intent in re-making the US in their own distorted image.
At the close of Constitutional Convention in Philadelphia in 1787, Benjamin Franklin was asked:
"Well, Doctor, what have we got—a Republic or a Monarchy?"

  "A Republic, if you can keep it."
What we are witnessing this election is no less than a battle for the very soul of the country.  We are right at that tipping point Franklin referred to.  Will we continue to be an admittedly flawed  representative government, where the democratic principle of one person, one vote prevails, and the belief that free speech is not measured in personal and corporate wealth?  Or will be become just another oligarchy run by greedy and power-hungry billionaires who have more in common with Ayn Rand than the Founders, who promised "to promote the general welfare" at home and maintain "a decent respect to the opinions of mankind" abroad.
The prospect of four more years of The Black Man in The White House is enough to send the Rethugs over the edge, despite record corporate profits and huge increases in the personal wealth of the top 1%.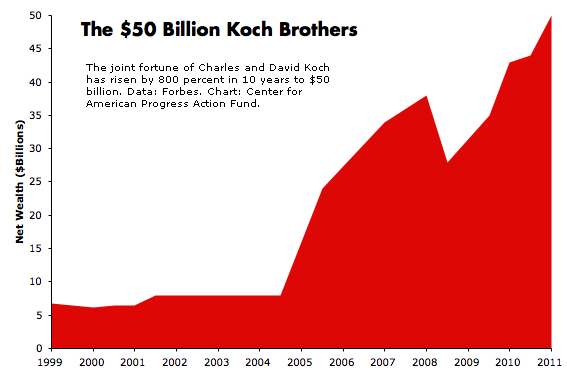 The Koch Brothers spent $25 million between 2005-2008 alone, fighting every attempt to regulate climate-changing green house gases, the byproduct of their energy extraction companies.  The results are super-storms like Sandy that just killed some 74 people (and counting), traumatized millions more, and wreaked $50 billion (and counting) in property damage.
And now they're on the cusp of getting one of their own into, arguably, the most powerful office in the world.  A say-anything politician and his Darwinian running mate that want to privatize FEMA disaster relief by further cutting the social safety net to pay for it.  How's that for Bizarro World logic?
Somehow I think that when these traitors to the planet are called to account for their crimes they will have so deluded themselves about their assumed natural superiority and moral rightness that they will find no contrition in their hearts, and thus no need for mercy from the real Powers That Be.
 But when mercy is exhausted, when the "memory" thereof testifies to its depletion, then does justice prevail and righteousness decree. For mercy is not to be thrust upon those who despise it; mercy is not a gift to be trampled under foot by the persistent rebels of time.

—The Urantia Book
I want to be around for that.  Meanwhile, a little justice and righteousness would be a good thing right now.
[Image found here.]
UPDATE: (11/1 @ 1:25 pm) Exxon and Shell just announced they made $16 billion in profits during the last quarter alone.
And here's a reminder of what a dick Romney is on the issue of climate change.