According to the NRA ad above, President Obama is just another "elitist hypocrite" for accepting Secret Service protection for his daughters.
Seriously.
And this on the heels of a new first person shooter phone app called "NRA Shooting Range." It features coffin shaped targets using a virtual semi-automatic pistol that , for an extra 99 cents, can be upgraded to a MK11 sniper rifle. It is being marketed to an age appropriate audience of wanna be killers; that is, from four year olds to adults.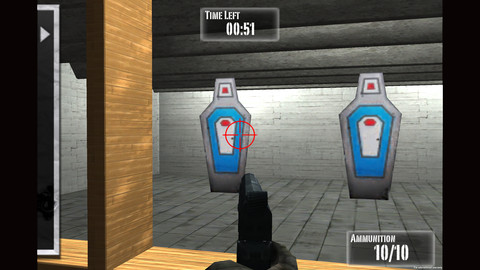 As I type this, President Obama is on my teevee announcing the results of Vice President Joe Biden's commission on how to limit the carnage with a combination of proposed congressional legislation and 23 new executive orders. Naturally, this has the wingnuts up in arms (literally), including a threat of impeachment from Texas Representative Steve Stockman, who compares Obama to Saddam Hussein.
There is, of course, much more to this current gun nut craziness than meets the eye, beyond the role that groups like the NRA play as marketing shills for the billion dollar munitions industry. Cognitive science, narratology, evolutionary psychology, identity politics, and ongoing wingnut propaganda all play a role, which I hope to address in a future post.
Meanwhile, a debate that has long been held hostage by "gun enthusiasts" has begun in earnest, and is already producing policy changes that can make society a bit safer. President Obama has decided to spend a significant amount of his political capital in realizing that goal. It remains to be seen whether there is enough courage on Capitol Hill to match his commitment to turn the public's outrage over the massacre of first graders at Sandy Hook Elementary School into the first sane restrictions on gun control in a generation.
We conclude with this totally vile performance by Rush Limbaugh mimicking the pleas of children to make their world a little safer, which he and Fux News characterize as "human shields" used by the Obama Administration to promote its fascist agenda. Or something like that.