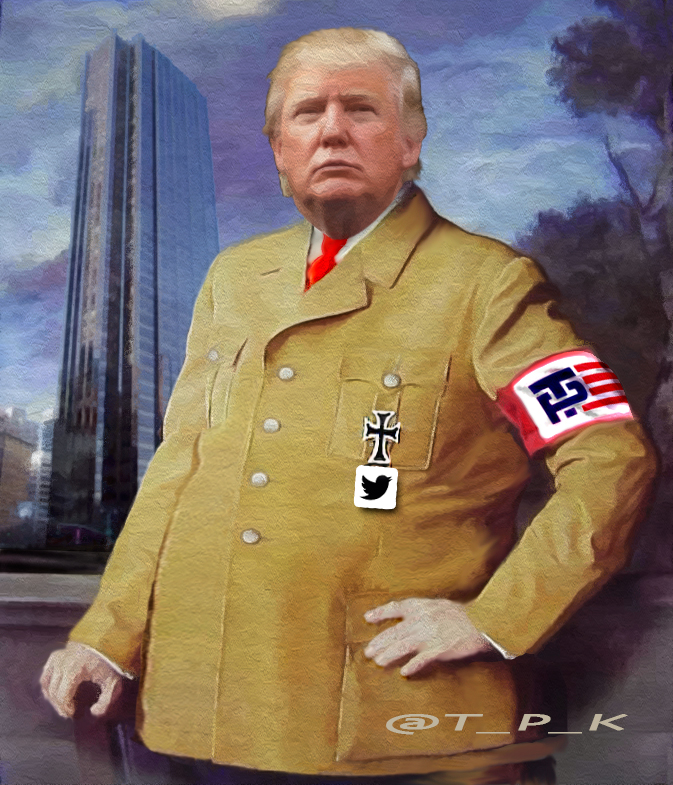 HERR TWITLER:  NO MERCY
White people bought this bullshit,
but we
all

 get to pay for it.

The greatest book of all time,* the  "Art Of The Deal," has no advice to help us with the rapidly mutating calamity of the choosing of a mentally ill narcissist to play president.  President-elect Trump has already resumed his mini-rants on Twittit™, even as the dolts who obstructed the Obama presidency for two entire terms are squealing at Trump protesters to "get over it."  They don't yet realize or care that the national psyche has only begun to feel the consequences of a concussion that could prove fatal to our democracy.
The people chose Hillary Clinton. But it's the electoral vote that counts, not the popular vote, so Donald Trump will be president. And no, I'm not over it.

No one should be over it. No one should pretend that Trump will be a normal president. No one should forget the bigotry and racism of his campaign, the naked appeals to white grievance, the stigmatizing of Mexicans and Muslims. No one should forget the jaw-dropping ignorance he showed about government policy both foreign and domestic. No one should forget the vile misogyny. No one should forget the mendacity, the vulgarity, the ugliness, the insanity. None of this should ever be normalized in our politics.

The big protests that have followed Trump's election should be no surprise. You can't spend all those months trashing our nation's values and then expect everyone to join you in a group hug. Trump made the bed in which he now must lie.

If a normal Republican had been elected, I could say the polite and socially acceptable thing, something like "I didn't support So-and-So, but he will be my president, too, and I wish him success." But I cannot wish Trump success in rounding up and deporting millions of people or banning Muslims from entering the country or reinstituting torture as an instrument of U.S. policy. In these and other divisive, cruel, unwise initiatives, I wish him failure.
(my emphasis)
But not to worry, mon.  Erry ting goann be awwiet.  Perhaps.  In a few dozen decades.
Meanwhile.  The citizens (not the corporations) of most of the great powers are taxed, regulated, and controlled almost oppressively.  Economic injustice is out of control.  And the curtailment of individual liberties promises to continue around the world.  Many Americans, and indeed, many of the world's citizens are increasingly frightened and apprehensive about their future in Trump World.  The fear and anger that drove a majority of whites in the U.S. to take a blunt instrument to their craniums just to "shake things up," will now begin paying the price for their paroxysm of vengeance.
Part of that unforeseen price is going to be the painful ruination of our democracy, at the stunted little hands of a B-grade reality teevee star, tweeting his tiny tantrums from the midnight oval office.
THE DANGERS OF DEMOCRACY
Many Americans seem to have the notion that "democracy" is baked into our reality like cherries are in a pie.  But our democracy is a product of civilization, not of organic evolution, and that makes it both fragile and volatile. There are several clear dangers that threaten democracy;  here they are:
Glorification of mediocrity.  Check.  Do you really need examples? 
Choice of base and ignorant rulers.  Check.  Trump isn't the first or the worst; (yet).  George Bush set a new low; now the question is how low can we go.
Failure to recognize the basic facts of social evolution.  Check.  Yes, we're talking about economic injustice, and the failure to recognize and achieve human brotherhood. 
Danger of universal suffrage in the hands of uneducated and indolent majorities.  Check.  Nothing in our history makes this point like our most recent presidential election.
Slavery to public opinion.  (The majority is not always right.)  Check.  We have made a fetish of democracy, through the exaltation of the common man's ideas which we collectively call "public opinion."  One man's opinion, by itself, is not regarded as worth much. But when many men are collectively functioning as a democracy, this same mediocre judgment is held to be the arbiter of justice and the standard of righteousness.
Education of public opinion is still the only safe and true method of accelerating our civilization.  Force is only temporary.  Public opinion, the mores, is the elemental energy in social evolution, but it must be nonviolent in expression.  Civilized government arrived when public opinion was clothed with the power of personal franchise.  Now more than ever, we know that elections may not always decide things rightly; they just happen to represent the right way even to do a wrong thing.  
WHO WOULD JESUS BOMB
Meanwhile, some free advice.  All you earnest Evangenitals¹ should answer this question:  Who should Jesus "bomb the hell out of"  first?  Maybe you reflexively thought to yourself, "Jesus wouldn't bomb anybody."  But hold that thought.
After this election, it's safe to say that the order of progressive evolution is occasionally subjected to sudden and unexpected changes in both the material and the spiritual worlds.
. . .no state is going to transcend the moral values of its citizenry as exemplified in their chosen leaders. . .
Jesus alluded to a "phase of the kingdom" in the future, and did, on numerous occasions, intimate that such an event might appear as a part of a world crisis.  What sort of change is hard to speculate;  but how about a nuclear exchange over. . .   a hand gesture?  Just a guess.  
Our political or administrative form of a government is actually of little consequence, provided it affords the people with the essentials of civil progress:  liberty, security, education, and social coordination.  It's not so much what a nation is, as what it does that determines the course of social evolution.  But no state is going to transcend the moral values of its citizenry as exemplified in their chosen leaders.  Ignorance and selfishness will insure the downfall of even the highest type of government.  Bombs away.
WHITE NATIONALISM
As much as we regret it — and we must — America's white national egotism has been essential to our social survival.  The chosen people doctrine was a prime factor in building the nation.  But our nation will never attain ideal levels of functioning until every form of intolerance is mastered;  it is inimical to human progress. 
How should our nation — even the world — function ideally in the 21st century?  There are at least three powerful and all-encompassing drives we can use to set out upon a progressively ideal course:
1. Intelligent patriotism — based on wise ideals.
2. Love — derived from the realization of human brotherhood.
3. Cosmic insight — interpreted in terms of planetary facts, needs, and goals.
Un-American measures such as a Muslim registry is certainly not the answer;  it would quickly make matters horrendously worse.  Intolerance— fear and hatred of the other— is always best combated through a wise combination of science, commerce, play, and real religion.  But only a truly ethical consciousness can unmask the immorality of human intolerance.  What's your honest estimate of the number of Trump supporters the poorly educated with a "truly ethical consciousness"?   Only a moral conscience will condemn the evils of national envy and racial jealousy.  Only truly moral beings will ever seek for that spiritual insight which is essential to living the golden rule.
THE PROGRESSIVE AGENDA
Okay then.  Here are a dozen bullet points true progressives should be willing and able to agree on and work to implement.  No pressure.
1. Preservation of individual liberties.
2. Protection of the home.
3. Promotion of economic security.
4. Prevention of disease.
5. Compulsory education.
6. Compulsory employment.
7. Profitable utilization of leisure.
8. Care of the unfortunate.
9. Race improvement.
10. Promotion of science and art.
11. Promotion of philosophy — wisdom.
12. Augmentation of cosmic insight — spirituality.
SO ARE WE DOOMED?
I hear you.  You're exhausted, confused, outraged, stuck in traffic, etc., and already don't have enough time or means to take care of your essentials.  Gee times are tough.  And let's be honest, looks like they're going to get exponentially tougher, at least short term;  even after the impeachment.
But yes, there was number nine up there:  Race "improvement."  And yes you heard right, Trump thinks he has superior genes.  Whatever he has, he is absolutely the worst spokesperson for eugenics you could possibly find.   Huff-Po put it like this:
This May Be The Most Horrible Thing That Donald Trump Believes

Most unfortunate.  Do you believe in evolution?  Yes?  Then you probably know that simple farmers have known for centuries that the "crossbreeding" of plants and animals could favor more desirable traits; but when it comes to humans, animal-origin humans— eugenics becomes evil, because, Hitler!  Yes, imagine it:  there's a wrong way to do a right thing!
But.  If you've never actually met an amoral criminal-type who would just as soon cut your throat as bomb a children's hospital, I can understand some of your apprehension.  But after this election??
It's time you got over it.
* LOL;  NO.
¹ Christian nutballs