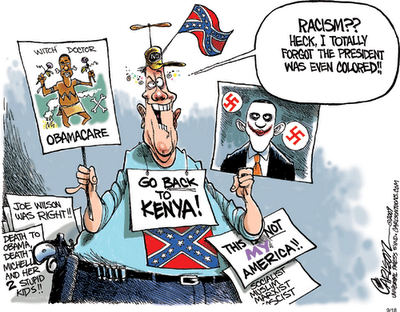 If the signs Teabaggers routinely display at various gatherings aren't proof enough of their deep seated racism, a new NY Times / CBS survey should seal the deal.  But before getting to the meat of the matter, some related stats to better understand who we are dealing with. According to the survey, Teabaggers…
…are 18% of Americans and tend to be Republican, white, male, married and older than 45.  More than half (54%) identify as Republicans, and another 41 percent say they are independents. Just five percent call themselves Democrats, compared to 31 percent of adults nationwide.
What a shock. Teabaggers are largely the same old rich white guys that have traditionally dominated the Republican Party.
…hold more conservative views on a range of issues than Republicans generally. They are also more likely to describe themselves as "very conservative" and President Obama as "very liberal."
Which means they are just a little to the left of Genghis Khan, and way to the right of Mitch McConnell, John McCain and just about every other Rethug Congressman.
…are wealthier; 56% make more than $5ok per year.
Unless their AGI was over $250k last year, they've already realized their signature issue–  personal tax cuts. Last week, Teabagger darlin' Sarah Palin was railin' that it now takes 100 days to reach what the Tax Foundation annually designates as "tax freedom day…the date when Americans…have earned enough money to pay this year's tax obligations at the federal, state and local levels."  Actually, it was 99 days, one day later than 2009, but more than two weeks earlier than occurred in 2007 under the Bush Administration.
…are more well-educated than the general public; 37 percent are college graduates, compared to 25 percent of Americans overall.
Better educated doesn't mean better informed. Teabaggers admit they get the majority of their "news" from Fux News, a political pornography channel whose business model depends on ever more obscene amplifications of people's emotions and fears, the facts be damned.
Appetizers served, we proceed to the main dish:
The overwhelming majority of supporters say Mr. Obama does not share the values most Americans live by and that he does not understand the problems of people like themselves.

More than half say the policies of the administration favor the poor, and 25 percent think that the administration favors blacks over whites — compared with 11 percent of the general public.
"People like themselves" are, of course, overwhelmingly white.  "Poor" is code for blacks and other minorities. Percentage wise, over six times as many black and Hispanic children live in poverty than whites.
Twice as many Teabaggers as the population as a whole believe that Obama favors blacks over whites. Everything from subsidizing health care to settling discriminatory bank loans originated by the Department of Agriculture are cited by Glenn Beck and other right wing demagogues as proof that Obama is all about "reparations." That Obama seems to care about poor people somehow justifies  Beck calling him…
"…a racist…with a deep seated hatred for white people."
Geographically, a plurality of Teabaggers, 36%,  are concentrated in the South, while only 25% come from the West, 22% from the Midwest, and 18% from the Northeast.
The country they scream about wanting "to take back" looks more like the segregated South of the 'fifties, a time when "sophisticated" blacks like Obama (code for uppity) knew their proper place.
Earlier this month, Virginia Governor Robert McDonnell (R) , a graduate of Pat Robertson's Regent University, indulged in a little neoconfederate triumphalism by proclaiming Confederate History Month. Initially, McDonnell omitted any mention of the slaves that help build his state, saying it was insignificant, a sentiment shared by former Republican Party Chairman and current Mississippi Governor Haley Barbour a few days later. Barbour, who was attending the Southern Republican Leadership Conference at the time, referred to the omission as just a 'nit."
But let's get back to your ordinary average Joe the Teabagger.  Jerry Johnson is a white, 58 year old lawyer, obviously better educated and presumably wealthier than the average American, thus fitting the Teabagger demographic to a T.  Asked at the D.C. rally last week why he was so strongly opposed to President Obama, he replied:
"It's not just because he's black…"
He probably doesn't like illegal immigrants either, and not just because they're overwhelmingly non-white.
Teabaggers want to bring down the deficit by eliminating entitlements programs, excepting the ones that benefit them directly, like Social Security and Medicare.  As for programs like Medicaid that benefit the poor, why those people can all just go back to Kenya or wherever the hell they came from.
The corporatist media has been lavishing attention of the Teabaggers for over a year now, as if they were a sudden reincarnation of the Founding Fathers and the anti-colonial militias rather than a group of ex Rethugs who could no longer suffer the embarrassment of being led by dolts like John McCain and George W. Bush, who just weren't conservative enough.
And then's there's the irony of using the original Boston Tea Party as their inspiration when they are being funded in large part by the same kind of corporate interests that precipitated that signature, revolutionary event. The British East India Trading Company, the prototype of modern corporations that concentrate huge amounts of wealth into a few, greedy hands, had monopolized the tea trade, leading ultimately to the American Revolution.
Nowadays, it's huge private corporations like  Koch Industries that have assumed the British corporatist mantle. But instead of screwing the honest tradesmen of 18th century Boston with tariffs and exorbitant taxes, they have, with the help of media moguls like Rupert Murdoch, manipulated their descendants  into burning down their own shops.
Neat trick, that.
Brings to mind this irony tinged line from The Urantia Book:
Such a life on such a planet.