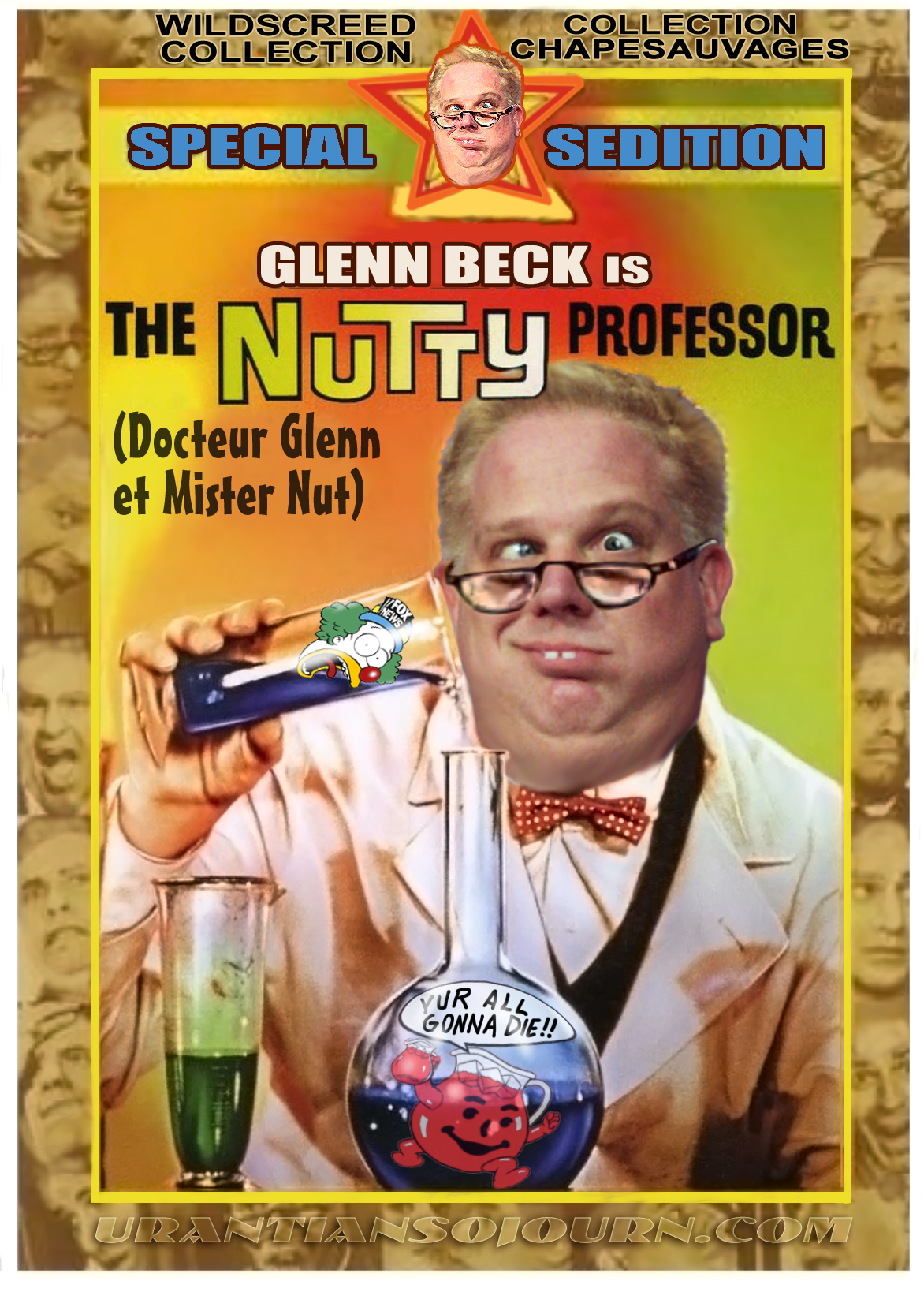 Not just an April Fool— he's good to go 365 days a year.
If you want to drink the fear, you must click it.

UPDATE (4/6/11)
Well, that didn't take long:
Fox News and Glenn Beck announced Wednesday that Beck will "transition off of his daily program" later this year.
Apparently, Beck will still be working with Fox to develop other undefined projects. Heh.
[END UPDATE]
No one documents The Glenn Beck Train Wreck Express better than Media Matters. Here's a sampling of just some of the news that appeared on its front page yesterday concerning some of Beck's most recent TV and radio shows:
TV Shows, featuring The Nutty Professor's Infamous Chalkboard:

Radio shows:
The real reason why Beck seems even more desperate in his attacks and doomsday predictions these days is the fact that he is losing a huge portion of his audience, as Media Matters documents in the following article (extra credit for those whose audio cognition range includes perception of anti-Semitic overtones):
Beck Pretends His Shows Are Not In "Decline
March 29, 2011 1:38 am ET

On his Fox News show today, Glenn Beck suggested that the efforts of Jewish Funds for Justice and Media Matters to "accelerat[e] Beck's decline" are not working because "the lights are on" in his studio. In fact, Beck's Fox News program has lost over 300 advertisers, he has lost more than 1 million viewers over the last year, his radio show has been kicked off various stations including ones in New York and Philadelphia, and there is a possibility that Fox News executives are reportedly "contemplating life without" Beck.

Beck: The "Lights Are On" In My Studio

Beck Attacks Losers Who Haven't Been Able To Get Him Off Fox. From the March 28 edition of Fox News' Glenn Beck:

BECK: [Jewish Funds For Justice] even have a special Fox News campaign now. Saying, "We stand up for those who offer nothing but scapegoats and demagoguery." They are also hiring interns in case you are looking to — they are creating jobs. Here's the job description: "Jewish Funds for Justice seeks creative and motivated interns in New York City." I hope you're motivated.

The interns will focus on the solutions, not scapegoats, campaign and report to the senior campaign manager. The intern work will primarily focus on JFSJ's campaign to get Glenn Beck's hateful rhetoric off of Fox News and off of radio in several cities. They are going to disrupt me some more?

C'mon, guys. It's not working for you so far, is it? Man, sometimes you must feel like a [gestures loser], anyway, they continue: "This cutting edge campaign is receiving national press attention for accelerating Beck's decline." Am I in decline? Could somebody check with a doctor? "And promoting positive public discourse." I know it feels positive so far.

[…]

More Than 300 Advertisers Have Fled Beck's Fox News Show

StopBeck.com: "Total Number Of Companies That Refuse To Have Ads On Glenn Beck: 300+." StopBeck.com has documented the number of advertisers who have dropped their ads on Fox News' Glenn Beck. To date, StopBeck.com has recorded over 300 sponsors that have dropped their advertisements from Beck's show. [StopBeck.com, accessed 3/28/11]

NY Times: Beck Is "Toxic For Ad Sales." In a September 29, 2010, article headlined, "Being Glenn Beck," The New York Times highlighted the difficulty Fox News experiences in finding advertisers for Beck. The article stated that "Beck's show is known in the TV sales world as 'empty calories,' meaning he draws great ratings but is toxic for ad sales." From the article:

While Beck's personal ventures and exposure have soared this year, his television ratings have declined sharply — perhaps another factor in the network's impatience. His show now averages two million viewers, down from a high of 2.8 million in 2009, according to the Nielsen Ratings. And as of Sept. 21, 296 advertisers have asked that their commercials not be shown on Beck's show (up from 26 in August 2009). Fox also has a difficult time selling ads on "The O'Reilly Factor" and "Fox and Friends" when Beck appears on those shows as a guest. Beck's show is known in the TV sales world as "empty calories," meaning he draws great ratings but is toxic for ad sales. [The New York Times, 9/29/10]

Beck's UK Broadcast Has Run Without Any Ads For More Than A Year. Beginning February 9, 2010, the UK broadcast of Beck's show ran without any ads. It was only until February 7, 2011, shortly before the first anniversary of the show, that a handful of advertisers returned. However, the show has run without any ads since February 18. [StopBeck.com, 3/28/11]
Beck's Ratings Are In Free Fall

The New Republic: "[Beck's] Show Has Lost More Than One Million Viewers" Over 2010. From The New Republic:

Just six months later, however, Beck seems to have traveled somewhere else entirely. His ratings and reputation are in steep decline: His show has lost more than one million viewers over the course of the past year, falling from an average of 2.9 million in January 2010 to 1.8 million in January 2011. He now ranks fifth among Fox's six weekday talk hosts, trailing lesser-known personalities like Shepard Smith and Bret Baier. Beck's three-hour radio show has been dropped in several major cities, including New York and Philadelphia, and has seen a ratings decline in most other markets. "It's hard to gain a million viewers," says Eric Boehlert, who follows Beck's shows for the liberal media watchdog group Media Matters, "but it's really hard to lose a million viewers." And Beck's fall contrasts with the fortunes of other Fox News hosts, like Bill O'Reilly and Sean Hannity, whose TV ratings stayed solid throughout 2010.

Beck's commercial viability also seems to have suffered. His viewership among 25- to 54-year-olds, a prized advertising demographic, declined by almost one-half in 2010. An advertising boycott organized by liberal groups has caused over 300 companies–including Procter & Gamble, UPS, Coca-Cola, and Wal-Mart–to stop showing commercials during Beck's show. The Beck brand isn't what it used to be off the airwaves either: His most recent non-fiction book, Broke: The Plan to Restore Our Trust, Truth and Treasure, was his first book in eight years not to reach number one on The New York Times best-seller list.

[…]

What happened? Beck built a following by making outlandish, conspiratorial claims–about ACORN, Obama, and so on. (Bizarrely, his extremism may have augmented the number of curious liberal viewers tuning in: A Pew Research Center poll from last September found that 9 percent of Beck's Fox viewers identified as Democrats, and 21 percent as moderates or liberals.) But "anytime you have extreme stimulus," says Alexander Zaitchik, author of the unauthorized Beck biography Common Nonsense, "you'll have diminishing returns." Beck, says Zaitchik, was caught "in a vicious circle": To keep viewers coming back, he had to keep creating new, more intricate theories. [The New Republic, 3/3/11]
Or what I like to call "Political Pornography."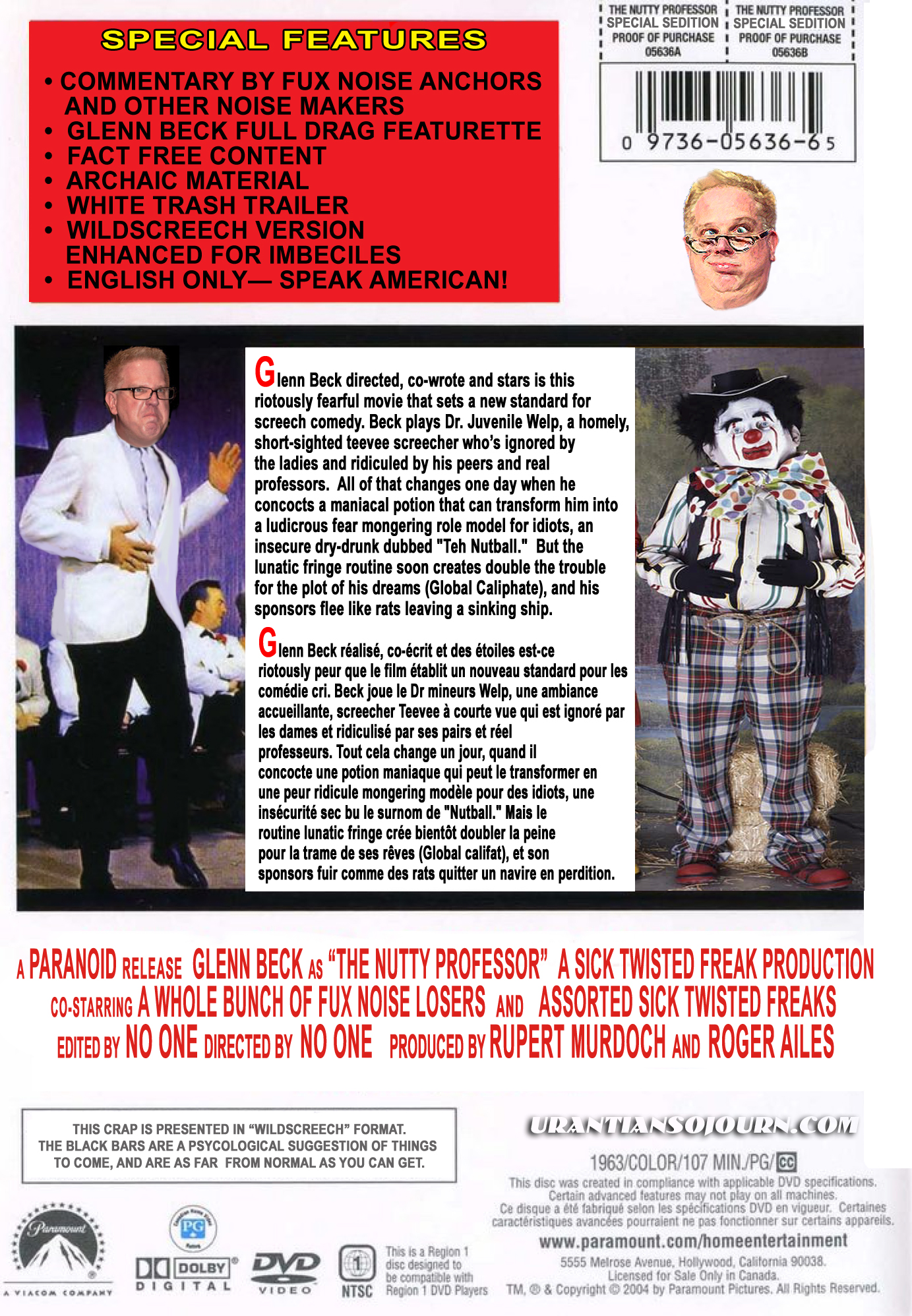 Radio Stations Drop Beck's Radio Show

NYC's WOR Drops Beck And Replaces Him With Mike Gallagher.

In January, New York City's second largest radio station, WOR (710 AM), dropped Beck's radio show and replaced him with Mike Gallagher. The station cited Beck's poor ratings as the reason behind the decision. The NY Daily News reported:

Glenn Beck may be one of the hottest talk show hosts in the country, but he apparently left New York's WOR cold.

[…]

Beck Loses Time Slot In Kansas City Due To Low Ratings. Beck reportedly lost his morning time slot on Kansas City's KMBZ "due to declining ratings." His show was moved to the less desirable late evening slot and local talker Chris Merrill took over Beck's morning slot.

[…]

Wisconsin Radio Station: Beck's Show Is "Unacceptable For Broadcast." WTDY/Madison dropped Glenn Beck's show from its station in February. When asked for the reasons behind its decision, WTDY issued the following statement to Media Matters:

WTDY can no longer carry the Glenn Beck program. Over the last 12 months, the show has devolved into plugs for Fox News (the radio version of which is aired by our direct competitor), his books, and other personal endorsements. The lack of actual content becomes more apparent daily. Monday's program was the final straw; his unabashed deriding of Madison is unacceptable for broadcast in our community. [Media Matters, 2/24/10]

Fox News Is Reportedly "Contemplating Life Without" Beck

[…]

Since last August, when he summoned more than 100,000 followers to the Washington mall for the "Restoring Honor" rally, Mr. Beck has lost over a third of his audience on Fox — a greater percentage drop than other hosts at Fox. True, he fell from the great heights of the health care debate in January 2010, but there has been worrisome erosion — more than one million viewers — especially in the younger demographic.

He still has numbers that just about any cable news host would envy and, with about two million viewers a night, outdraws all his competition combined. But the erosion is significant enough that Fox News officials are willing to say — anonymously, of course; they don't want to be identified as criticizing the talent — that they are looking at the end of his contract in December and contemplating life without Mr. Beck. [The New York Times, 3/6/11]
Beck's implosion occurred immediately after his attempt to recast himself as a messianic cult leader, in the same place and on the anniversary of Dr. Martin Luther King Jr.'s immortal "I Have A Dream"  speech– just a coincidence, he maintained. But such displays of grandiosity, a key behavioral trait of  malignant narcissists like Beck, is not so hard to detect, even among his diminishing audience. (I think we can assume that the liberal rubbberneckers who tuned in for the freak show entertainment value recognized his craziness right away. )
In the classic 1976 film, Network,  the protagonist, Howard Beale, has enjoyed a meteoric rise to the top of the television news personality universe. But when his influence over his audience becomes dangerous to the PTB,  his corporate bosses drag him back down to earth, warning him that he had messed with  "the primordial forces of nature." It's not hard to imagine that when Beale demanded his audience stick their heads out their windows and yell  "I'm mad as hell, and I'm not going to take it anymore", a young Glenn was watching. Lightening struck, and a career was born. Too bad the larger lesson was lost on him.
In his play, Antigone, Sophocles warned :
evil sometimes seems good
to a man whose mind
a god leads to destruction
Or as a later version would have it:
those whom the gods would destroy they first make crazy
Today those gods are media moguls like Rupert Murdoch who wield the  power to shape the perceptions and actions of mere mortals. But what the gods giveth, the gods can taketh away.
[ Original image ]