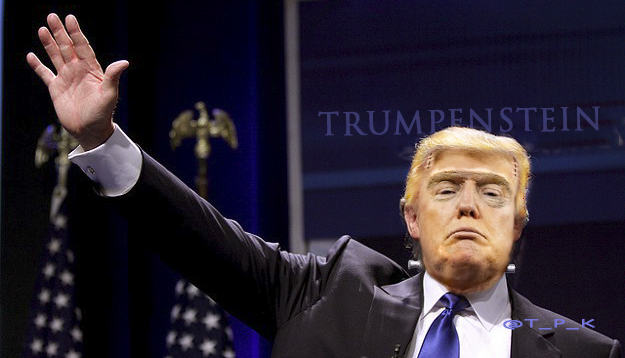 In Mary Shelley's classic sci-fi horror novel, Frankenstein or The Modern Prometheus (1818), her protagonist, the brilliant Dr. Viktor Frankenstein, allows his hubris to get the better of him by assuming the powers of the Creator. His monstrous faux human creation, without name or number in the original—let's call him "Donald" for now– refers to himself initially as "the Adam of your labours," and subsequently as "your fallen angel."  Assembled from the disjointed body parts of dead humans, the good Doc's beloved creation rebels and tries to destroy him.
Which pretty much describes Donald Trump's relationship with the GOP establishment. His political persona is as much a creation of the political arm of the GOP, Fux News, as it is one of his own devising. Prior to the first, now infamous, 2016 Republican presidential debate, Trump was a regular weekly guest on Fux's morning program, Fux and Friends, which gave him a long-running, high profile forum to build his political persona. A marriage made in heaven for an extreme narcissist and a cable network, both seeking maximum public attention and approval.
Behind the scenes at Fux corporate, however, trouble was brewing between Fux owner, Rupert Murdoch (an immigrant himself), who wanted to dump Trump; and its president, former Nixon communications adviser Roger Ailes, who wanted to keep him. Murdoch called Trump "wrong" and "embarrassing," a sentiment his other propaganda organ, the Wall Street Journal, reinforced when it labeled Trump a "catastrophe." Ailes, on the other hand, knows ratings gold when he sees it and came to Trump's defense.
Murdoch initially prevailed, as evidenced by Fux News rising star host, Megyn Kelly's out of the gate attack on Trump at the first GOP presidential primary debate. Megyn confronted Trump with a number of his misogynist statements over the years. Trump did his best to deflect her prosecution, resorting to another of his patented Rosie O'Donnell' slurs, subsequently implying in a tweet that Kelly was on the rag at the time. Murdoch seemed to have gained the edge at this point, having given Trump plenty 'nuff rope to hang himself. But when the ratings came in for the debate, which showed that the event had far surpassed the previous record for any comparable cable tv broadcast, Murdoch (now in his dotage), surrendered the playing field, proving that for the bottom line at least, Roger is good for what Ailes ya…if you're a Fux stockholder, that is. Meanwhile, having been thrown under the corporate bus, Megyn took an extended vacation. (MSNBC, in a severe ratings funk, should hire her to replace the execrable Joe Scarborough.)
So now, it's back to the future, with Fux once again making kissy face with Trump. And that means either accepting or rejecting his extreme proposals for immigration reform (the only policy paper his campaign has released to date), exactly the issue that the GOP establishment wants to avoid. After their resounding defeat in the 2012 presidential election, they performed an "autopsy" that found that without a much higher percentage of the Latino vote, they'll never get the keys to the White House again. Where their last successful presidential run, the re-election of George W. Bush in 2004, mustered 40% of the Latino vote, Mitt Romney received only 27%, a 13 point drop. Attempts to produce a viable immigration reform package, perhaps the greatest concern of Hispanic voters, have failed miserably—just ask past presidential candidate John McCain and current presidential candidates Lindsey Graham, Jeb Bush, and Marco Rubio. Unable to quell the racist, nativist sentiments of their Tea Party base, the GOP establishment decided it was better to downplay or ignore the issue altogether.  
But now that the Trumpestein monster has broken his restraints and left the table, marauding across the countryside and terrorizing the peasants (cue music: The Monster Mash...it caught on in a flash.), the GOP is forced to reanimate the issue. Which means addressing Trump's promise to: (1) deport 11 million undocumented immigrants (and their families, whether they were born in the US or not); (2) end birthright citizenship (guaranteed by the 14th Amendment); and (3) build a really, really yooge wall (extending 2000 miles at an estimated cost of $168 billion).
Re item (1), not only does Trump want to deport Mexican rapists, murderers, and drug dealers, but also law abiding, tax paying workers and their families, whether their children were born here or not. (Estimated cost: $300 billion over 40 years.) Which brings us to item (2): the only way that he could deport children of immigrants who were born here—which he justifies by saying that, after all, he just wants to   keep families together—is to trash the 14th amendment that guarantees these citizen "Dreamers" all their constitutional rights. (estimated cost to deport the 5 million Dreamers alone: $50 billion.)  And to keep all them thar "illegals" out, he intends to build an impenetrable wall and make the Mexican government pay for it. (Herman Cain inspired alligator infested moats subject to further negotiation. But the smart money is on the author of The Art of the Deal to at least get them gators at a hefty discount if the Mexican government decides to dig in its heels and grows a bigger pair of cojones.)
None of these fantasies have even the slightest chance of becoming real without a major media blitz. But with Trumpenstein back behind the protective walls of the Fux News castle, the effort has begun. Steve Douchebag, cohost of Fox and Friends, judges Trump's immigration plan as: "A dream list for many who have wanted immigration reform for a long time."
And Andrea Kostintina Tantaros, cohost of Fux's The Outnumbered, defending Trump's assault on the Fourteenth Amendment, opined: "It wasn't intended so that a bunch of Latinos could flood over the border."
With the rupture in the wingnut Force repaired, the rest of the universe will have to content itself to sitting 'round the campfire, roasting Frankenweenies, waiting to watch the next episode of Republicans Eating Their Own. A fitting epilogue would have Trumpenstein further his rebellion by quitting the GOP and running as an independent.