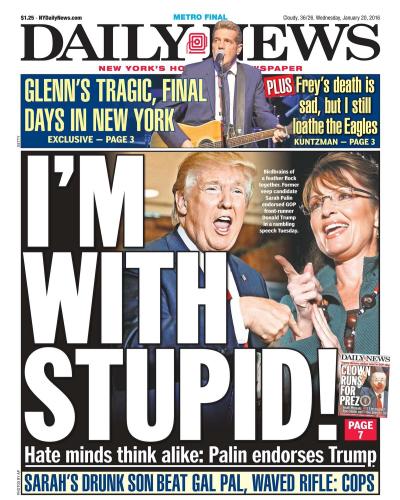 Well, if ever a news event didn't require an explanation of Teh Stupid, this is it.
Trump video shows footage of Russian, not U.S. veterans
By ELIZA COLLINS 01/22/16 07:05 PM EST

Donald Trump used footage of Russian soldiers in a video post on his Facebook page that was meant to convey his respect for America's veterans.
Fullstop!  WTF?
The video — which was later deleted — contains images of soldiers with medals that have the hammer and sickle, the symbol for communism, and "CCCP," an abbreviation for the Soviet Union. The original footage is available on the stock footage site Shutterstock and is titled "RUSSIA, TOGLIATTI, MAY 9, 2015, Victory Day: Veterans of World War II with red flowers in hand at the Military Parade, military medals."

In Trump's video, he Trump speaks directly into the camera and says, "Our great veterans are being treated terribly, the corruption in the Veterans Administration, the incompetence is beyond. We will stop them."

Then the video pivots to the images of the Russian soldiers as his voiceover says, "We're going to take care of our veterans, we're going to take care of our wounded warriors. These are our greatest people. We will take care of them like they've never been taken care of before."

"Illegal immigrants in many cases are treated better than our veterans, that's not happening if Trump becomes president," Trump says again into the camera. "Believe me, our veterans will be proud again."

Ya know, when I first downloaded the Daily News photo of Sarah Always Failin Palin and Donald Trump, I thought of the classic t-shirt caption "I'm With Stupid." Problem was, I didn't know who to make the subject of the caption, Trump or Palin. They're both pointing at each other. Imagine my relief when the above article appeared. Problem solved.

In case you can't read the fine print in the space between the heads of these two head-cases in the pic above, it begins with: "Birdbrains of a feather flock together…" In prehistoric times, their soul-mate fusion would have looked like this:


Trump, the avatar of solipsism,  is rapidly proving that he is only too competent to replace Palin as the embodiment of Teh Stupid. What's next: Trump saying he can see Russia―or should that be Tehran?―from the balcony of his penthouse suite, atop the tower that so egotistically bears his name?

Exsqueeze me, puhleeze!