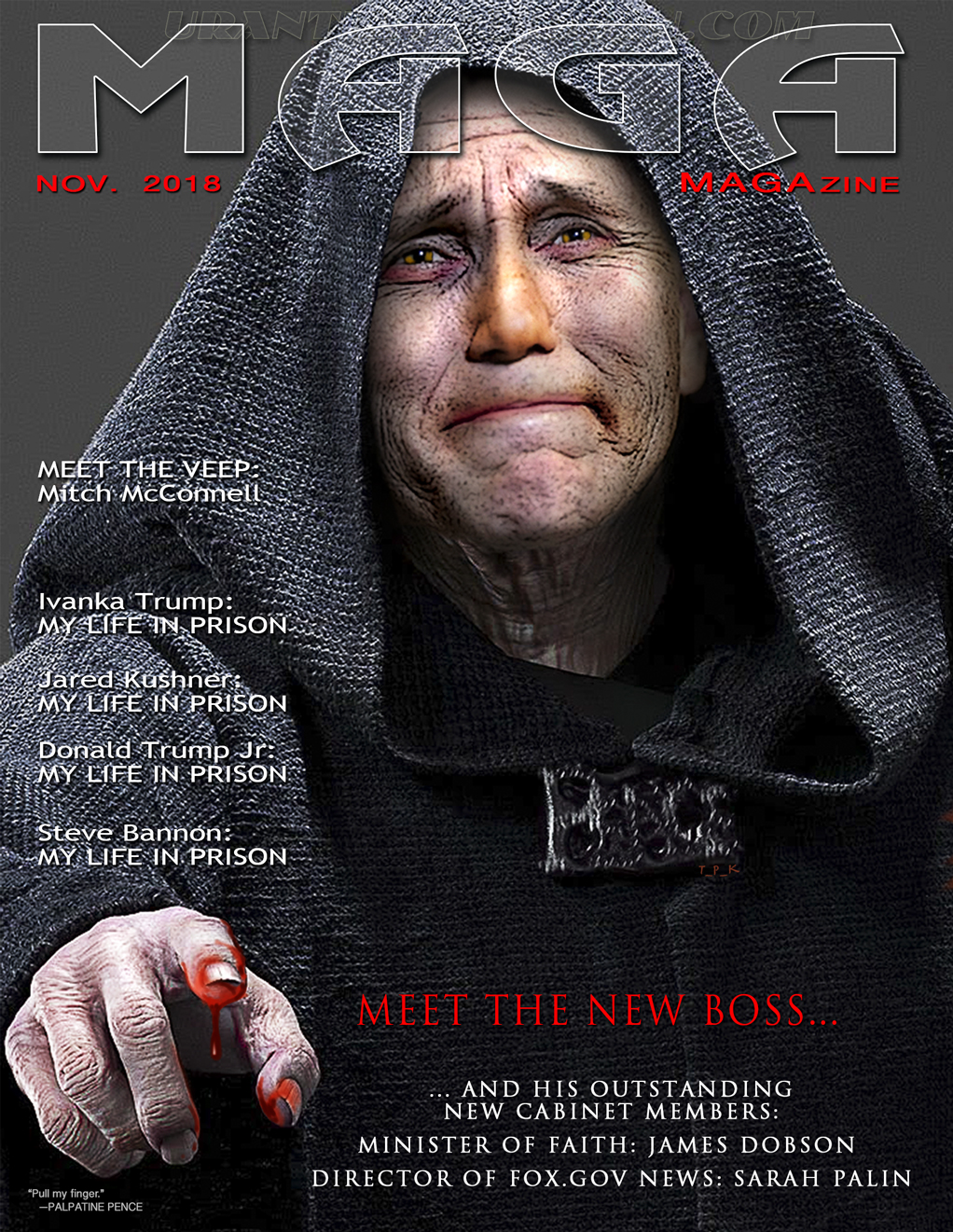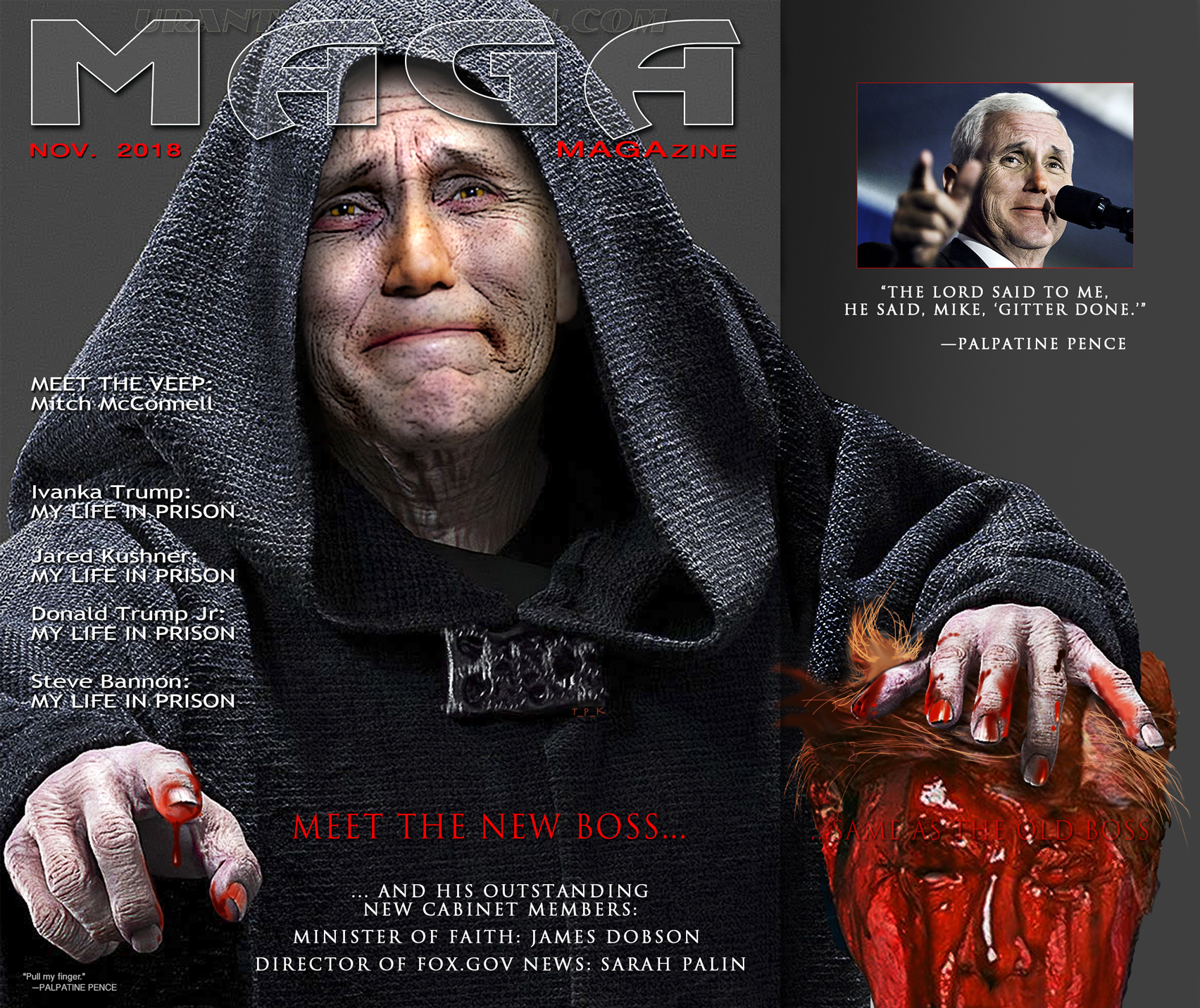 I'm not always comfortable explaining how I happen upon some of the weird magazines I review, and this one is no exception. I will only say I was forced by circumstance to spend a few days in Mike Pence's hometown, where I found a copy of MAGA MAGAzine; (I see what you did there).  But this version of "MAGA" is not Donald TRump's version;  this one claims to be "MAKE AMERICA GLORIOUS ALLELUIA."  My guess was "Make America Grotesque Again."  But yeah that's already happened.
And yeah, it was dated for November of 2018, but it's here now, and well, it's fuckin' scary.  I can see him putting James Dobson in his cabinet as the "Minister of Faith," as a big fark you to secular America and The Wall… that used to stand between church and state;  so much for walls.
Pence has that ultra-pious face-thing going so hard I want to slap him repeatedly with a frozen footlong Indiana State Fair corndog.  Listen all you out-of-touch flyover-land self-proclaimed deplorables:  Sheev Palpatine is not now and never has been a role model.  That means the cover shot of understudy Mike Pence assuming the position is not a good thing.   Even the name has become synonymous with evil, is a symbol of evil, sinister deception, dictatorship, tyranny, and the subversion of democracy.
But I hafta digress.  I am never ever going back to Columbus, Indiana ever again.  And not simply because Mike Pence was born there.  The place is infested with maroons — who pathologically visit a plethora of pump houses, brewpubs, and fried-to-death salty-crunchy chains of every level of caloric excess imaginable, and then whine about it in online reviews.  To recap:  Yes, I'm saying the food is bad, and the service is worse; and the carbon-based lifeforms who live there say so too: [my bolds]
"When our food arrived it was all very bland and tasteless. There was no seasoning or flavor at all. This palce [sic] is not worth it for food at all.  $16 for lukewerm [sic] fries and an over-cooked [sic] burger pretty much sums this place up. Tried it more then [sic] three times, and the results were consistent.  —Kyle K
"AVOID THIS PLACE!!! Quality of the food and service are both horrible. Don't waste your time or money here. Our food was old and appeared to be heated in the microwave. Salads were unfit to eat with brown wilted lettuce. We are never going back again! This was the second time we have eaten at this location and the prior time was just as bad.  —Chad F
"Our waitress was so inattentive! I had to chase her down for our drink refills after I had already asked for a refill, she did the same thing when I asked for the box after waiting several minutes, I had to approach the bar myself to get the to-go box. Very disappointed in the service, the food was good though and I'll prolly go back. —Stacey D
"i went to be a DD for a friends birthday. i only brought a card so i knew there would be a minimum payment to be able to use my card. i bought a soda for myself and a shot for my friend since it was his birthday. when i went back to get a refill they said refills were not free even though i was a sober driver. the rule was you had to buy some food item off the menu to receive free refills. i asked to be served a small order of fries to which the bartender replied that the kitchen was closed due to an "emergency". this was bullshit and they did not try to compensate me at all. the only reason i will be back is for the Wednesday beer pong tourney. to which i give 5stars for fun and friendly staff and cash prizes."  —Rupert R.
 "Don't listen to the positive reviews of this place. My chicken came out burnt to a crisp. I asked them to make me new chicken, but I was told that that was how the chicken was supposed to taste. The place was also dirty and had a weird smell. Don't eat her!!  [sic] —Jason G.
The pictures were very misleading. The bartender was rude and the karaoke was terribly flat. I may go back on a weekday.  —Ashley M
 "I am done with this location and more than likely with this company permanently. Not only did I get over charged and my order was short, they gave me the wrong items to begin with. This is the 5th time now. You have lost yet another customer. Not to mention that when I tried to call and let them know, no one answered, I called back k [sic] only to have someone pick up the phone and hang it up. —Cameron T
 "This place was so great when it first opened, I used to eat there once a week. My favorite thing from the menu was their full chicken combo. I used to love their daily veggies because something different was available every time. Unfortunately, the menu has changed so much, the food is unrecognizable from what it once was. The prices for their food increased, and portion sizes decreased. More annoying than anything is the fact that they open 11-3 except for Friday and Saturday, and they close Mondays. Basically, if you don't go there for lunch, you're probably going to drive there and find it closed. Unless this place changes the quality of their food and service (not to say that their attention was bad to me as a customer, but what I've said above), and improve their availability, I'm not sure how long they'll stay in business.   —Stephanie G
"Looks like the place has seen better days. Lots of flies. Meats were greasy. Ribs were fatty & tough. Corn bread was dry. Sauces seemed half developed. Pulled pork was their best. Salad greens were limp, flat, & warm. Menu was out of date. Bathrooms were dirty, esp men's. Great ambiance, good decorative design. I liked the layout, the set up for sauces, pickles, salad bar, etc. I wanted to love the place.
—Brianna B
But enough local color.  And sorry if you skipped down to here, like I did, to get back to the actual MAGA review.  But no, Ivanka, Jarred, DT Jr., and Bannon aren't in jail yet in November, 2018, but Mueller says they're all up to their nuts in collusion with Pootie and the Bolsheviks, and so is Palpatine Pence;  may they all twist in the wind until they are inert as cardboard.
As for MAGA MAGAzine, they may do better to just wait for the catastrophes of the next decade rather than predicting bad news for the craven Republicans.  Or is it just me— who remains totally convinced Republicons will never learn how to govern say, a beer pong helmet— let alone a nation like America.
So here's my review.
This place was so great when it first opened.  But the place has definitely seen better days. Unfortunately, it's changed so much, it's almost  unrecognizable from what it once was.  You have lost yet another loyal citizen.  Don't waste your time or money here.  I am done with this nation, and more than likely with this country permanently.  Unless this place changes the quality of their government and service, (not to say everything was bad to me as a citizen), and improves their willingness to hold fast to the American Way— to American values like truth, beauty, and goodness— I'm not sure how long they'll be in business.
But the food was good though.  I'll prolly go back.