Go ahead, you hungry freak— Eat That Question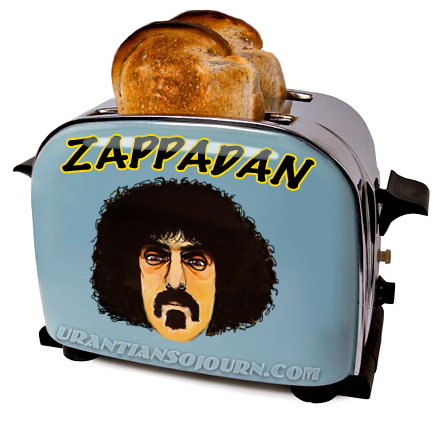 (Original Notes By Master Eddie)
EAT THAT QUESTION is the 4th track on THE GRAND WAZOO.   It provides a humorous image of the tendency of free jazz and fusion to deconstruct tempo and harmony in the free interaction of small sounds:  "In a burlesque of feeding Christians to the lions (or tiraal leon in Mexican slang), the solution to the problem of Questions (individuals who don't like music) is a literal one:  a tank of undifferentiated tissue.
EAT THAT QUESTION features George Duke's piano playing, and the recording of the Fender Rhodes electric piano in a novel way.  Most recordings of the instrument prior to EAT THAT QUESTION were not of comparable sonic quality or production value as Duke's performance on the piece.
EAT THAT QUESTION is mostly a vehicle for George Duke's electric piano, and begins with a rubato intro followed by the entrance of the full rhythm section in time.  On this and several other tracks, Zappa plays a flat top acoustic/electric guitar using a wah-wah pedal and a Maestro phase shifter, or Leslie speaker for a chorale effect.
The Barcus-Berry transducer used was, at the time, a novel way of amplifying the instrument instead of using a traditional magnetic guitar pickup.
The instrumental makeup of WAZOO is mostly a big band.  At the time of WAZOO, the compositions were arranged for large ensembles, which were conceived as studio recording vehicles, rather than live, touring bands.  It was the third album released in a period where Zappa was in a wheelchair and unable to tour;  (he was assaulted and pushed off the stage into an orchestra pit during a London concert).  The two earlier albums of mostly instrumental work were HOT RATS, and BURNT WEENY SANDWICH.
During this period the number of tracks available in analog recording was expanding.  Multi-track recording with "sound on sound" was soon supplanted by "sound with sound" tape technology.  HOT RATS had been released a few years prior to WAZOO, and was recorded on one of the first available 16 track machines.
RATS featured multiple tracks of clarinets, flutes, saxophones, piano, and organ parts played by a single musician, Ian Underwood.
If you're still hungry after Eating That Question, go here.
Frank Zappa — guitar, percussion, vocals
Mike Altschul — woodwind
Bill Byers — trombone
Chunky (Lauren Wood)– vocals
Lee Clement — percussion
George Duke — keyboards, vocals
Earl Dumler — woodwind
Aynsley Dunbar — drums
Tony Duran — guitar, bottleneck guitar
Erroneous (Alex Dmochowski) — bass
Alan Estes — percussion
Janet Neville-Ferguson — vocals
Fred Jackson, Jr. — woodwind
Sal Marquez — bass, trumpet, vocals, brass
Joanne Caldwell McNabb — vocals, brass, woodwind
Malcolm McNabb — trombone, horn, trumpet in D
Tony Ortega — woodwind
Joel Peskin — saxophone, woodwind
Don Preston — Mini Moog
Johnny Rotella — woodwind
Ken Shroyer — trombone, brass, contractor and spiritual guidance
Ernie Tack — brass
Ernie Watts — tenor saxophone, C Melody Saxophone (the "Mystery Horn") solo on "Cleetus Awreetus Awrightus", woodwinds
Robert Zimmitti — percussion
Gerry Sack — phantom tambourine