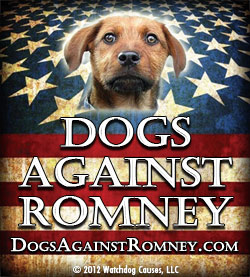 FOR IMMEDIATE RELEASE: A Dogs Against Romney press event will be held tomorrow, Tuesday, February 14 at NOON EASTERN TIME in front of MADISON SQUARE GARDEN during The American Kennel Club's Westminster Dog Show (SEE EXACT LOCATION DETAILS BELOW).

You are invited to join your fellow dog lovers on Valentine's Day, tomorrow, Tuesday, February 14, to protest Mitt Romney's abusive treatment of dogs. The protest is sponsored by Dogs Against Romney – and will seek to focus more public attention on the fact that Romney forced his dog to ride for 12-hours on the roof of his car – and even coldly hosed the dog down with water after he became ill and frightened, soiling himself – before driving for hours more – all while Romney's luggage rode inside the car.
Or as Willard himself might ask:
Who let the dogs out? Who? Who?
UPDATE  (2/15/12): Via Raw Story, Willard is now competing with Rick Santorum in Google's 'your name is becoming a verb' contest:
A satirical redefinition of the word "Romney" has leapt from obscurity and into the limelight this week by cracking a list of the top 10 Google search results for the Republican presidential candidate's last name.

Similar to the "Spreading Santorum" website that has so plagued anti-gay Republican Rick Santorum by redefining his last name to mean "the frothy mixture of lube and fecal matter that is sometimes the by-product of anal sex," "Spreading Romney" does the leading Republican candidate no favors.

Much to the campaign's assured dismay, it defines the word "Romney" as a verb meaning, "To defecate in terror."

The page was #4 overall in Google's search results for the term "Romney" at time of this story's publication.