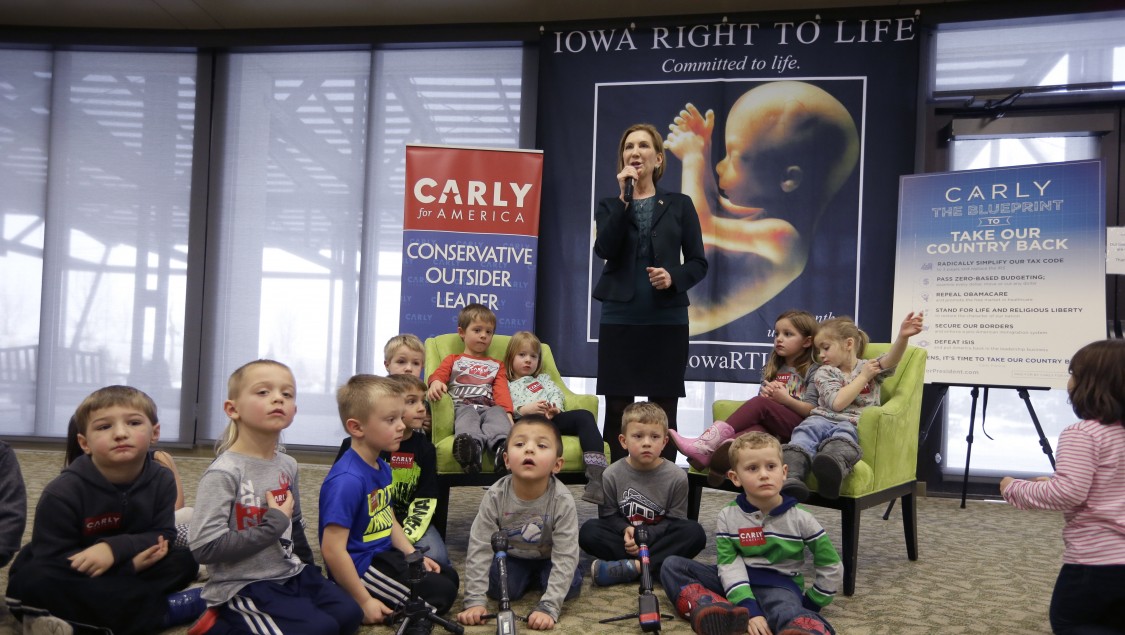 Carly Fiorina encouraging kids to take their country back from Planned Parenthood
Well, well…the gods of karma have been busy this week.
First off, failed former HP CEO and presidential candidate Carly Fiorina was roundly criticized for using a group of kids out on a field trip to an arboretum as props for her agi-prop campaign against Planned Parenthood. 
Carly Fiorina's latest campaign stop in Iowa has upset some Des Moines-area parents, who say the GOP presidential candidate "ambushed" a group of kids on a preschool field trip — and led them to an anti-abortion rally.

On Wednesday morning, Fiorina attended the Iowa Right to Life Presidential Forum, where she emphasized her support for defunding Planned Parenthood and passing a national abortion ban.

The anti-abortion event was held at the Greater Des Moines Botanical Garden. At the same time, a group of preschoolers was also visiting the botanical garden for a field trip.

According to the Des Moines Register, Fiorina "headed straight for a group of giggling 4- and 5-year-olds" when she first arrived at the botanical garden. She reportedly ushered them toward the makeshift stage set up for the anti-abortion event — which featured a large poster of a fetus — without asking permission for the children to sit with her.
Not content to merely push her anti-abortion agenda in front of the kids, she also got into her signature campaign rant: Planned Parenthood is selling baby parts to the highest bidder. ("Mommy, the nice lady at the flower place said something about selling baby body farts…"). The evidence for her claims? A doctored video released last summer.
From CNN:
Planned Parenthood has countered that it donates the tissue for scientific research and receives only reimbursement for its expenses, which is legal. The group also says it helps people donate tissue "with full, appropriate consent from patients and under the highest ethical and legal standards," according to a statement from spokesman Eric Ferrero.

Later, Ferrero issued another statement saying, "These outrageous claims are flat-out untrue, but that doesn't matter to politicians with a longstanding political agenda to ban abortion and defund Planned Parenthood. Women and families who make the decision to donate fetal tissue for lifesaving scientific research should be honored, not attacked and demeaned."

The group leveling the accusation, the Irvine, California-based Center for Medical Progress, says it shot the video a year ago at a California restaurant. On it, two people purporting to be with a human biologics company speak with a Planned Parenthood doctor over what appears to be a lunch meeting. The Center for Medical Progress says the pair, who are off-camera and never seen, are paid actors.

The video, which is almost three hours long, was released Tuesday along with a heavily edited eight-minute version, which has drawn more than 1 million views on YouTube, as opposed to about 40,000 for the the full-length footage. The group has also released a transcript of the longer video.
"Planned Parenthood's criminal conspiracy to make money off of aborted baby parts reaches to the very highest levels of their organization," said statement from David Daleiden, who led the undercover project.
As you can imagine, the GOP presidential wannabes jumped all over the story. Much heat was brought down on Planned Parenthood, most especially from Texas. Not only did Governor Greg Abbot cut off its medicaid funds (Abbot had earlier cut-off its cancer screening service for low-income women), but he had his Republican Lt. Governor Dan Patrick launch a criminal investigation of the organization.
Imagine my surprise when I bought my dead-tree version of the NY Times this morning and saw this (above the fold) front page story.
HOUSTON — A grand jury here that was investigating accusations of misconduct against Planned Parenthood has instead indicted two abortion opponents who made undercover videos of the organization.

Prosecutors in Harris County said one of the leaders of the Center for Medical Progress — an anti-abortion group that made secretly recorded videos purporting to show Planned Parenthood officials trying to illegally profit from the sale of fetal tissue — had been indicted on a charge of tampering with a governmental record, a felony, and on a misdemeanor charge related to purchasing human organs.

That leader, David R. Daleiden, 27, the director of the center, had posed as a biotechnology representative to infiltrate Planned Parenthood affiliates and surreptitiously record his efforts to procure tissue for research. Another center employee, Sandra S. Merritt, 62, was indicted on a felony charge of tampering with a governmental record.
So not only was Planned Parenthood exonerated from any criminal wrongdoing, but the slime-buckets who created the video were themselves indicted on felony and misdemeanor charges of fraud.
Marco Rubio was the first GOP presidential wannabes to step in it last night when the news broke. He was at a town hall meeting in Iowa where he announced the decision by the grand jury. Naturally, he spun it into a remix of his stump speech rant that it was just another example that the country was "headed in the wrong direction." Not because an  operation steeped in criminal fraud designed to prevent women from getting low cost medical services was uncovered. No, the real crime is that the vitriolic narrative that he and his fellow Republicans are propagating has just been shown to be full of shit.
What's next? Hypocrite Rubio bragging that he's a law and order man? Maybe he should take the advice of Republican district attorney who said she was just going where the evidence led her.
Same goes for Carly F, who referred to Robert Lewis Dear,the man accused of murdering five people with an AK-47 at a Planned Parenthood clinic in Colorado Springs last November as "a messenger" and a "protestor."
God save us from these delusional wackos.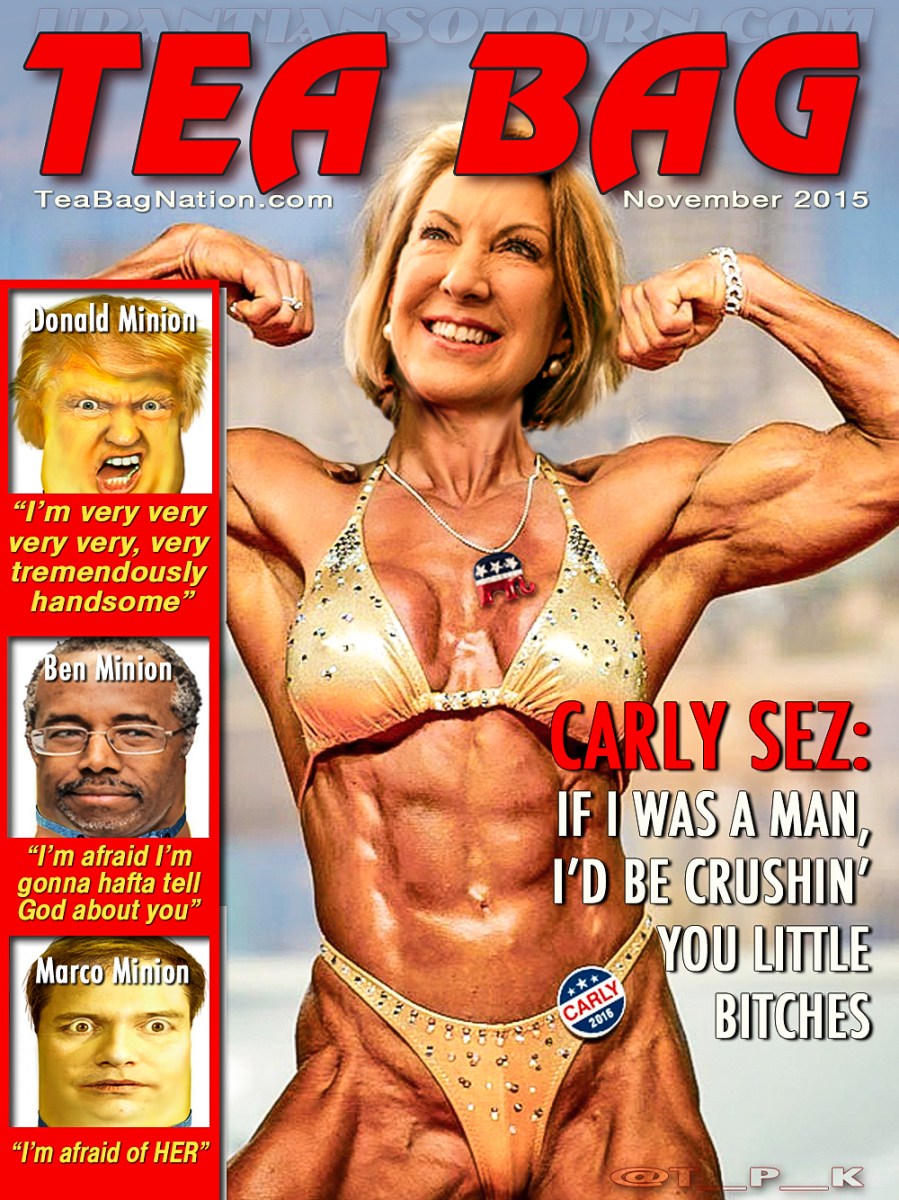 Carly goes semi-commando, claiming that her degree in Medieval history and philosophy would make her tough on ISIS