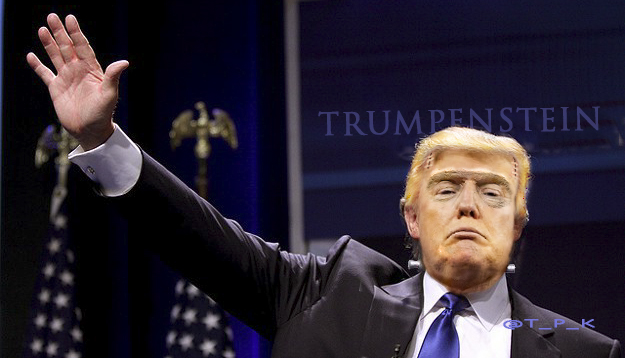 Back in August, we published Trumpenstein! that begins as follows:
Mary Shelley's classic sci-fi horror novel, Frankenstein or The Modern Prometheus (1818), her protagonist, the brilliant Dr. Viktor Frankenstein, allows his hubris to get the better of him by assuming the powers of the Creator. His monstrous faux human creation, without name or number in the original—let's call him "Donald" for now– refers to himself initially as "the Adam of your labours," and subsequently as "your fallen angel." Assembled from the disjointed body parts of dead humans, the good Doc's beloved creation rebels and tries to destroy him.

Which pretty much describes Donald Trump's relationship with the GOP establishment. His political persona is as much a creation of the political arm of the GOP, Fux News, as it is one of his own devising. Prior to the first, now infamous, 2016 Republican presidential debate, Trump was a regular weekly guest on Fux's morning program, Fux and Friends, which gave him a long-running, high profile forum to build his political persona. A marriage made in heaven for an extreme narcissist and a cable network, both seeking maximum public attention and approval…

But now that the Trumpestein monster has broken his restraints and left the table, marauding across the countryside and terrorizing the peasants (cue music: The Monster Mash…it caught on in a flash.), the GOP is forced to reanimate the issue.
And now comes this from Media Matters.
GOP Presidential candidate Donald Trump backing out of Fox News' debate is a damning indictment of the creature that the right-wing media helped create and that the rest of the media enabled for far too long.

Not only did Fox News and the rest of the right-wing media manufacture many of the lies that serve as the refrain of Trump's campaign, but they also fomented much of the racial antipathy and sexism that Trump is using to fuel his campaign.

In this conservative universe, facts don't matter. Which is exactly why Donald Trump can claim that he is backing out of the Thursday's debate due to the fact that Fox News doesn't treat him well, despite the fact that Trump has appeared on Fox News at least two and a half times more than any of his GOP primary opponents. (I'll save the irony of Fox News being burned by the same kind of fact free attacks that the network conditioned its audience to respond to for another day.)

In his rationale, Trump also cited concerns about the debate being moderated by Fox News anchor Megyn Kelly. Trump has openly attacked Kelly since the first Fox News debate in August. But make no mistake, Donald Trump does not have a problem with Megyn Kelly because she's a serious journalist who asks really tough questions (she isn't). Nor is it because she challenges Trump's policies. Remember, Kelly was one of the first media figures to defend Donald Trump's claim that Mexican immigrants are rapists and killers.

Trump has a problem with Megyn Kelly because at the first Republican primary debate, Kelly asked Trump about his misogyny and his long record of sexists attacks against women. Trump reacted by attacking Kelly, suggesting that she was on her period and subsequently threatening to boycott Fox News.
Don't you just love it when life imitates art?
UPDATE (1/28/16)
As the Frankenstein meme to describe Donald Trump's effect on the Republican party spreads, Professor Cole reminds us today of the historical parallel between Trump and Richard Hostadter's classic 1964 essay on "a paranoid style in American politics."
Observing the paranoid style in the early 1960s, Hostadter noted that it had a particularly strong appeal for those who see themselves as dispossessed and feel that "America has largely been taken away from them and their kind." This holds true today, a sense of dispossession is felt particularly keenly by the white working class, among whom there is a deep distrust of government and a real anger that their cultural and religious identity is under siege. And they are tired of being taken for granted by the Republican leadership.

It is a constituency to which the absolutism of Trump's rhetorical style plays well – and in appealing to it he has revealed the chasm that has opened between the Republican establishment and its base.

The mainstream American right and its media allies have long exploited fears about social issues to build support among white working class conservatives, but they have simply lost control of this process. Enter Trump – a Frankenstein of the Republican Party's making.
The more things change, the more they stay the same.