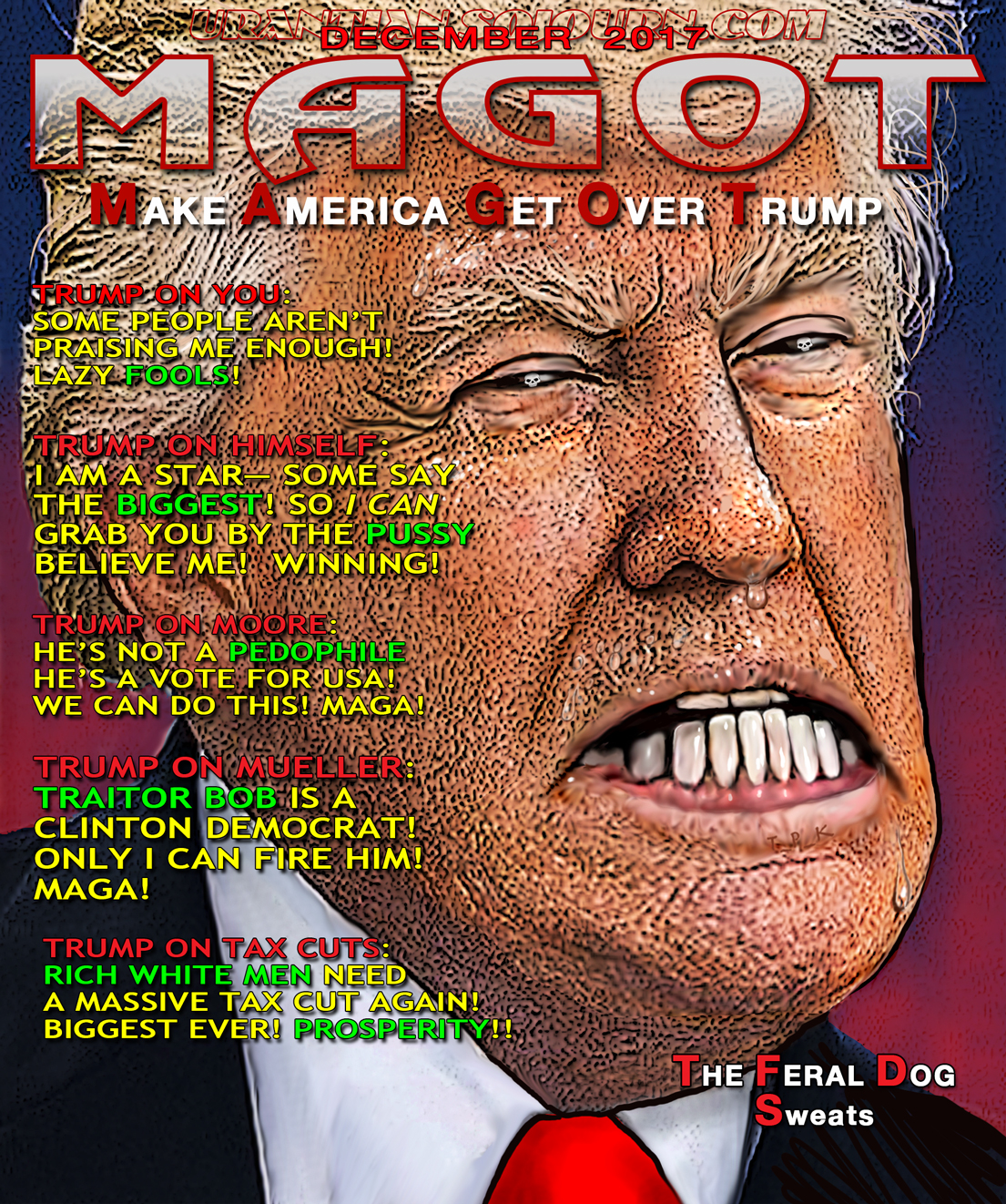 Faithless readers of this blog will not recognize yet another unheard of magazine atop a post, the reviewing of which is one of our favorite distractions as we hunker down for the inevitable unraveling of TRUMP'merica©.
"MAGOT" MAGAzine— an acronym for "Make America Get Over Trump"—  (good luck with that, fellow optimists), is our latest, and tiny hands down, most traumatic find to date.  See other Mags here, here, here, here, here, and WhyTFN, a TeeVee mag here.
Normally we like to regale our occasional readers with the quaint back story of how we come across these often bizarre publications, but honestly, this POS* was found at the local Department of Motor Vehicles, and there's simply nothing more to be said about that lost-time experience that would do anything but pull the scab off a perennial psychic wound.
Oh yeah.  Some of our fellow Americans don't watch television, but enough of us do that, chances are, you've seen the term "FSociety" in relation to the series, MR. ROBOT.  Their usage of the term is in conjunction with the traditional "F" word.  But in TRUMP'merica©, we're redefining the "F" word to mean FAKE;  not fuck.  As in "FAKE" Society.  But it's not the usage of the word "fake" that the feral dog inhabiting the White House has been abusing for the past year.  It's reality itself.  But Trump only applies the term to any media outlet with the temerity to report the news about him with respect to facts in evidence, facts in reality.
So here we are. In FSociety, the president is addicted to Twitter.  It's become a daily raging barometer of his griplessness.  In FSociety, the president is a self-admitted justice-obstructing, pussy-grabbing sexual predator, accused by, at last count, sixteen women.  In FSociety, the president has blathered out over 1600 verifiable lies— just since taking office.
In FSociety, the president's National Security Advisor has pled guilty to lying to the FBI, and before too much longer will very likely give up all the lying, money-laundering, justice-obstructing, treasonous country-fucking turds who he colluded with last year.
Go ahead.  Take a deep, life-giving breath if you can.  And realize this:
If indeed our gut-shot democracy has a breath of life left in it, it's currently being used to keep Robert Mueller alive.
*Piece Of Satire